4+
Про виставу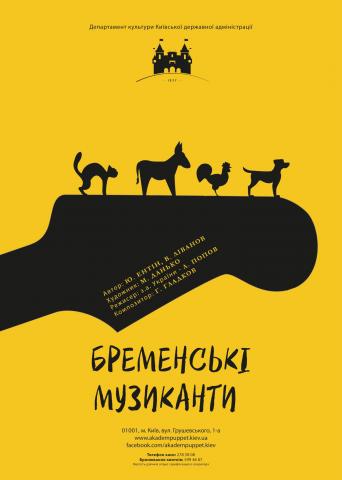 Yes, sure, we know that you have seen the famous cartoon hit with the same name several times already, but our theater offers you a vibrant, wonderful, musical for all family members, in which each of them will find something interesting and special for themselves. Don't give yourself up on a pleasure of living through the events of the famous fairy tale live and enjoying yourself while listening to your favorite hits. And if your child is not yet familiar with the famous quartet of musicians from the glorious city of Bremen, then come without even a slightest glimpse of hesitation in your mind.
The play is a mix-genre: comedy, farce, buffoon, eccentric, circus show, lyrical melodrama and spy detective! Be sure that you will find a lot of fun for yourself in our show (the funny young Troubadour and his friends: Dog, Cock, Cat and the Donkey!). There will be a lot of charm (charming Princess!), there will also be a lot of awe (horrible forest robbers!), a little bit of brilliance (resourceful detective!), and a little bit of silliness ... (stupid King!).
Be sure - we will impress you both musically and plastically, with funny scenes and vibrant fantasy of our actors. And along with all this you will have the opportunity to get acquainted with almost all existing varieties of theatrical puppets: glove puppets, life-size puppet, parquet puppets, and shadow puppets. Right, all this variety of puppet figures is presented in our play "Bremen Musicians". Otherwise - it wouldn't be a real show! So do not waste any second more. We are already waiting for you.
Lifehack from the theater: do not forget to prepare your children for viewing of the musical. Tell them that this fairy tale is written by prominent storytellers, who came from a fascinating country of Germany, famous brothers Grimm. It will be absolutely wonderful if you read the fairy tale a day before or after visiting the play, along with your child. This will enable you to compare it with what the child sees on the stage.
Author
Yuriy Entin, Vasily Livanov
Director
h.a of Ukraine Leonid Popov
Choreographer
Elena Voytsekhovska
Heading
Performances for children