4+
Про виставу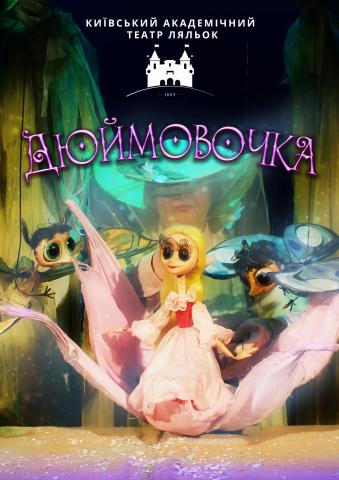 Once again, our theater offers you a great story of the prominent Danish storyteller Hans Christian Andersen. This time the events will unfold around the tiniest heroine throughout the whole world's literature - Thumbelina.
This fairy tale is told to the viewer by the author himself. At the very beginning of the play, he honestly admits that he heard this story from a Martlet…
This story begins with a birth of a tiny little girl named Thumbelina. Weightless butterflies bring her a lot of colorful gifts. They wish her happiness… But what is happiness, exactly?     
That is the question Thumbelina asks every creature she meets on her path: the stingy Mole, the greedy Field Mouse, the voracious Frog and her selfish son Froggy. However, all the answers these heroes give her are far from truth. Because everyone lives only with his own personal idea of Happiness.
And only when Thumbelina saves the Martlet, which freezes in the winter cold, from a certain death, does she begin to realize the true meaning of Happiness. Only good deeds have to be done, and only then new friends will start to appear around you. This is the true meaning of Happiness.
Many events, disappointments and sad meetings will hit our heroine on her path. However, at the end of her story she will have a fateful meeting with the one who will be able to bring her true Happiness...
But Happiness is an inspiring thing. Perhaps, this is why the play, which our performance is based upon, is called "The Wings of Thumbelina".
Lifehack from the theater: along with your child, examine your thumb carefully. Have you done it? So, this is the width of your thumb is exactly one inch. This is the height of the main character of our performance "Thumbelina". Her name comes from the word "Thumb".
Author
Boris Zakhoder by G.-H. Andersen
Director
n. a. of Ukraine Yuriy Sikalo
Heading
Performances for children