0-3
Про виставу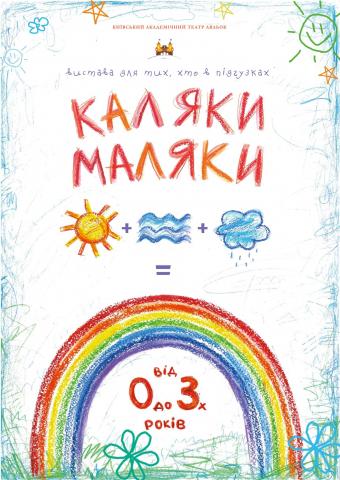 Visual tactile play "Kalyaki-malyaki" - an extraordinary performance for extraordinary spectators - for those who are still in diapers, who only make first steps in learning this bright world, who has a lot of questions. For example, where the rainbow comes from? Who draws it on the sky? Let's try to answer all those questions together. How can we do this? Very simple - by playing, touching, crawling, jumping, painting and creating a fairy tale in which the main characters will be you along with your child.
What do you need to know going into our performance "Kalyaki-malyaki"?
"Baby theatre" is significantly different from the classical children's theater. How? First of all, by its unique audience. These are the kids aged 0+, they find it difficult to sit in the spectator sits of the auditorium when it is at a great distance from the stage and the action itself. These kids are small researchers who are interested in a variety of things, for whom there are no boundaries, and they want everything in this world to interact with personally, here and now. Young theatre-goers do not want to contemplate, but to create, interact and play with actors! This is precisely whom the special "baby theater" format is meant for.
Therefore, in our performance, "Kalyaki-malyaki", the decorations and actors are in close proximity to the audience. And viewers are located in the manner which is most preferred by kids - on the floor, on the big soft pillows. You will not find a classical auditorium with a stage here. Instead, you and your child will find yourselves in a homey, cozy atmosphere. In this way, we get the effect of connecting a viewer and an actor. And in this way one of the highest levels of emersion into the action can be reached.
The plot of our performance is extremely simple and understandable. We are constantly combining the viewing aspect of the performance with an interactive one. By doing that we ensure that the child doesn't even have time to get bored and is constantly in a sense of a direct participation in the performance.
Interactive games are designed to take into the account the tender age of young spectators and aimed at the development of their motor skills, perception, coordination, logic, sense of rhythm, development of tactile sensations, etc.
Blitz-acquaintance with the baby theater:
The theater is a kind of art that combines literature, music, vocals, choreography.
Baby - a small baby up to 3 years old, which needs care and attention.
Interactive - contains elements of interaction between actors and small viewers.
Interactive Baby Theater - a fabulous setting for toddlers from 0+ who love to crawl, jump, dance, sing, touch ... PLAY!
What will children do during the performance?
Move as they like
Play
Surprise
Smile
Touch everything that interests them
 Create and produce
What will parents do during the performance?
It sit on a carpet and pillows in comfort
Film and take pictures with their cellphone
Relax and have fun
Return to childhood
Age of viewers: from 0 to 3 years
Performance for those who are in diapers. Designed for VERY small viewers: who lie, sit, crawl, and take their first steps.
The number of seats in the room is limited (up to 40 people).
Heading
Performances for children
Genre
Baby theater, visual tactile play