3+
Про виставу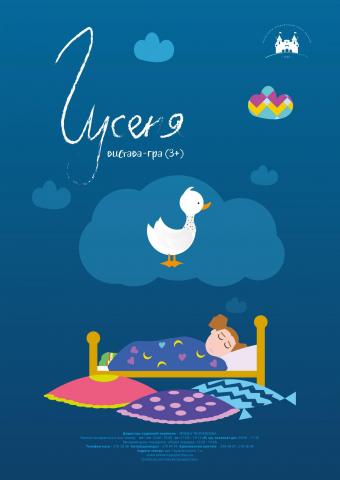 Does your child like to play and can't sit in one place? Does your child strive for an adventure and constant activity? If so, then we invite you to our theatre! We welcome you and your child to plunge into the world of fantasy and playfullness. Moreover, we welcome you to become a part of this wonderful world.
How can you do this? It's very simple – by looking and participating in our unique playful performance for the more fidget kids and their parents. Usually you forbid your child to cry loudly in the street, bark, knock or clap, however, during our performance, this is not only unforbidden, it is even welcomed. Yes, yes, it will even help the main characters of our fairy tale.
What's the matter? What an unusual performance we got here? Just imagine that you are in a child's bedroom. Can you imagine that the world's funniest baby pajama is on you? Perfect! Let's start! Will you be able to fall asleep if you are surrounded by this strangeness: every pillow can turn into a lake, a forest, and even into a cunning Fox, a brave Hedgehog and finally into the main character of our playful performance - the unstoppable Gosling named Timophy. How can you fall asleep when the adventure has just begun: Timophy almost fell into a swamp, started a frog chase, but to make things worse, the mischievous Fox set in motion her despicable plan – she has stolen our Timophy!
Lifehack from the theater: do you know that the play "Gosling" was written in the distant 1935 and represented the first pedagogical (instructive) play for a professional puppet theater? It was this fact that granted the play a long stage history in professional puppet theaters around the world. Viewing the play helps your child become more prudent, courageous, and responsive, learn to sympathize with someone else's misery and provide support to the dearest friends in various difficult situations.
Author
Nina Gernet, Tetyana Gurevich
Artist
Kateryna Dizhevskaya, Natalya Yagupova
Choreographer
Tetyana Chichuk
Heading
Performances for children
Genre
Playful performance